Competidor Brand – Vader – A1
MPTDR KIMONO COLLECTION TWO : The Groundwars Collection is a full Cut & Sew project by Competidor Brand. The uniform boasts a very clean and detailed design that embodies both style and functionality. Tailored for optimal play, The Vador features include quality construction, reinforced stitching, and supreme craftsmanship. As a
CMPTDR XCLSV, The Vador will be available in a super limited run and will be available only for a limited time.
DETAILS: Color: Black on Black Weave: PEARL | 450 Gram
Lightweight Pants: Newly Constructed 10oz Ripstop Jacket: – Light weight 450g lightweight soft pearl weave fabric -One piece jacket with no back seam – Ripstop outer material // Rubberized Lightweight EVA foam collar – Beautiful Black on Black contrasting color stitch – Heavy reinforced seams – Tailored Cut & Sew Fit – Custom Inner Taping & Lining
Pants Features – 10oz RIPSTOP Pants – Triple Gusseted Crotch – 7 Point Loophole System – Thick drawstring – Newly designed Reinforced Kneepads – Heavy reinforced seams – Tailored Cut & Sew Fit – Custom Inner Taping & Lining Extras: – Quality Embroidery – Circular Jacket Ripstops – Black Contrasting Stitching – Full Detail inside and out
First off I would like to point out a few things about their customer service. I asked what size I should get and I got no response. I asked another guy who had just gotten the R2G2 and he said I should go with a normal size. So I ordered the A1 on July 24th and it said on the website it ships the next day. Fast forward two days later I emailed them about a tracking number and I got one later on that day. Fast forward to July 30th and the tracking info said the package was finally brought to the facility in Guam for mailing. 6 days later when I bought made the order it was shipped out. I received it today August 3rd. Customer service was virtually non existent for me.
When I opened the package it was in a very nice bag
As I was taking the gi out of the bag some stickers and a mouthguard was also included in the package. I wasn't expecting the stickers so it was a nice little surprise.
I was extremely excited to finally have this gi in my possession, now on to the review. **Note** These are pre wash measurements, I will have post wash measurements later on tonight.
Jacket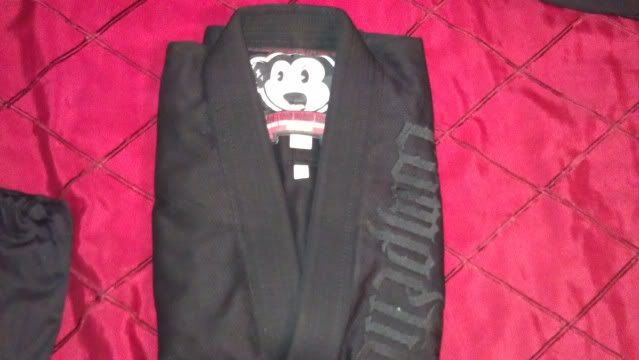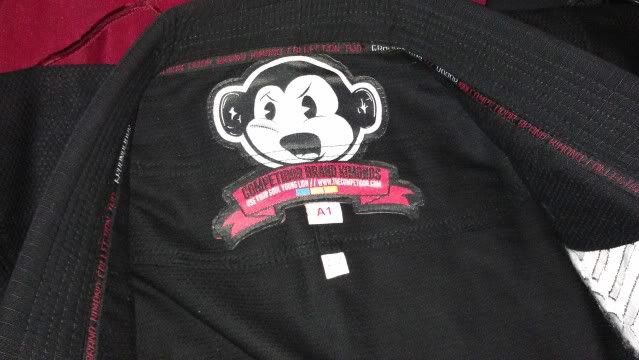 Cuff to Cuff – 63.5
Shoulder to bottom of skirt – 30
Collar width – 2
Collar thickness – .5
Under armpits across – 23
Side skirt to collar – 11
Armpit to bottom of skirt – Almost 20
Cuff – 6.5
When I first opened the package and started pulling the jacket out, it was SUPER soft to the touch. Almost gold weave soft. Great stitching all throughout the gi. The cuffs are double stitched, the stitching on the collar is straight. Great embroidery on the Competidor lapel logo. One piece no back seam. The cuff/bottom skirt taping is a nice design of swirls and what looks like waves. The side split, outside bottom skirt, and collar are all covered with ripstop material.
There is a small "shaka" hand logo placed on the back of the left sleeve.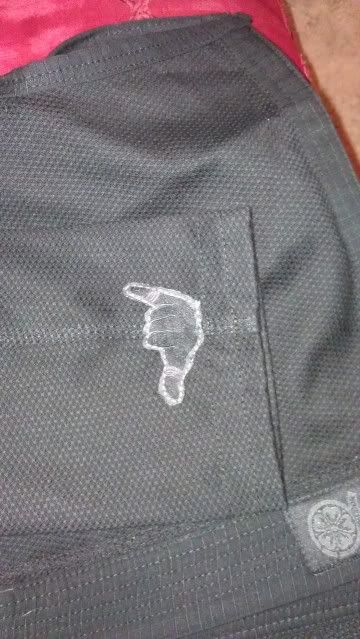 The right shoulder is the flower design and reads KIDCOMPETIDOR
The lapel logo reads "Competidor" in a nice black/black design.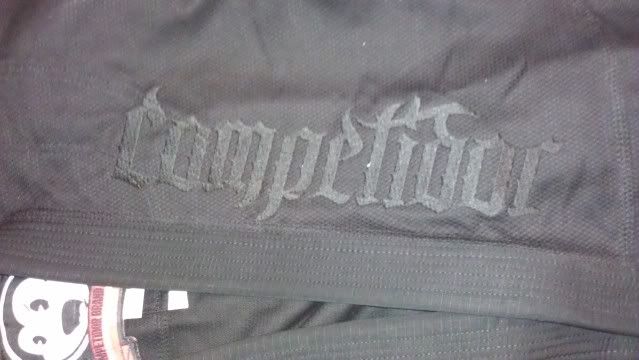 The inside of the side split has a reinforcement patch that reads "Hero Series Groundwars"
The inside taping of the lapel reads "Groundwars Vador Competidor Brand Kimono Collection Two and is not scratchy at all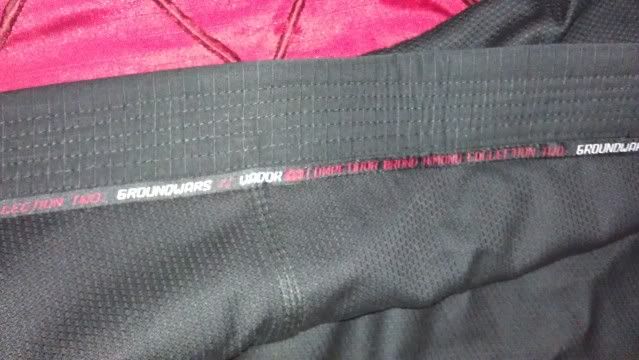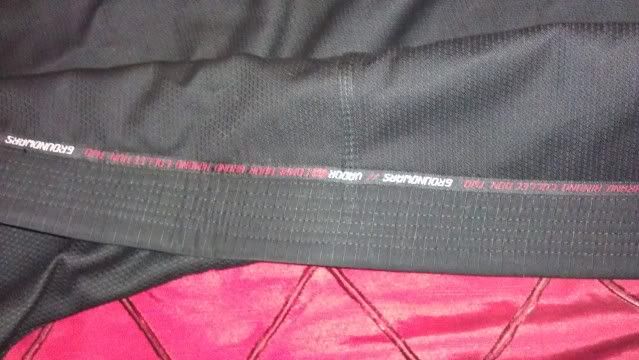 The inside of the cuffs have a nice lining to them, a red design.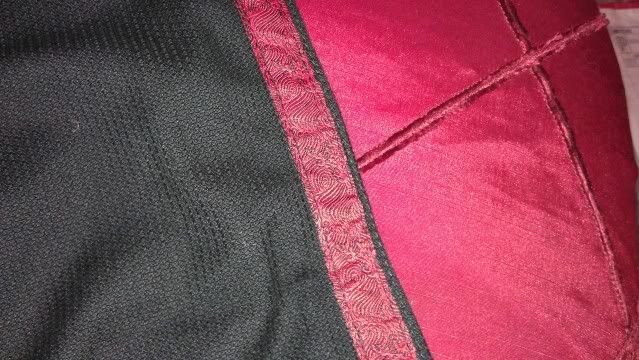 Jacket thoughts – nothing particularly special about the top besides the amazing softness, great stitching, and black/black design. Now a days with new Gi companies coming out every five seconds it's hard to one up each other but I think Competidor did one up everyone in craftsmanship and design. True it's a black/black design like the Shoyoroll Yang but this one is more easily available and where as i haven't actually owned a Yang I have seen one in person and this one seems to be made more well and is tons softer.
Pants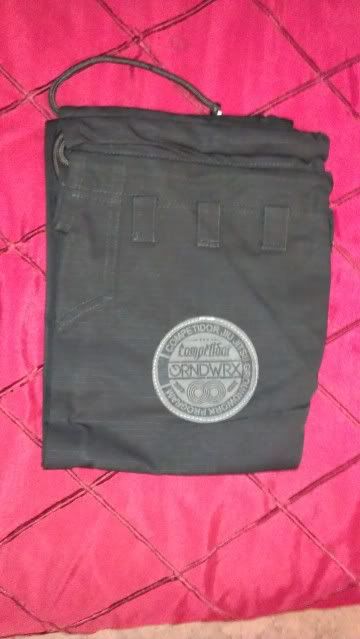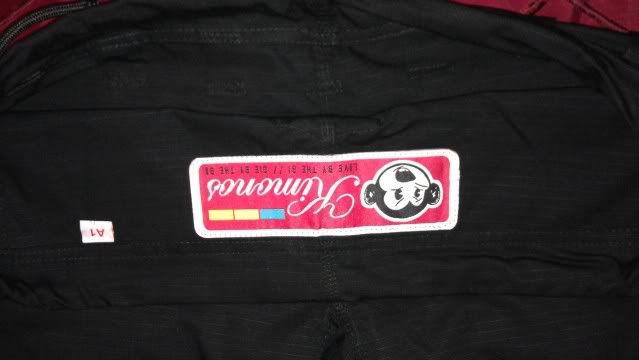 Front Top to bottom cuff – 37.5
Inseam – 28
Cuff width – 8.5
Waist – 21
Back top to bottom cuff – 39
Thigh – 10.5 (bottom of gusset to side
First thing I noticed when pulling the pants out of the package was the belt loops.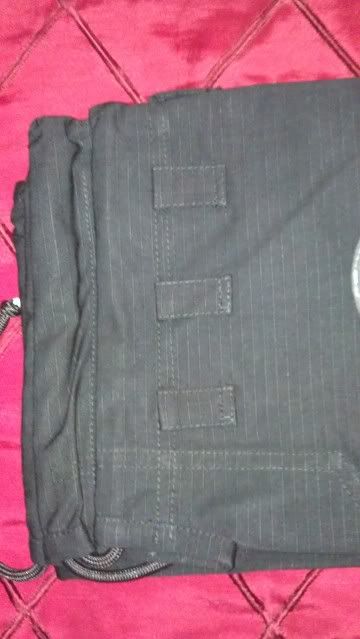 They are thicker than normal at 3/4 of an inch and are spaced apart in a way that it will not ride up on you. There are 7 total, with one being directly in the middle. This is something that I find great about the pants as most belt loops become really loose or start to tear fairly quickly, these seem very sturdy and will last a long while.
The second thing I noticed was the way that the knee reinforcements were stitched on. Most companies now are doing straight lines going down the pants, these are stitched in a "V" shape almost like a shield's design. Very unique in my opinion.
The cuffs are quadruple stitched for reinforcement and have the same inside taping as the sleeves but the crotch and side split reinforcements are double stitched as most companies pants are done now. The inside leg area running from the cuff up to the gusset is triple stitched as well.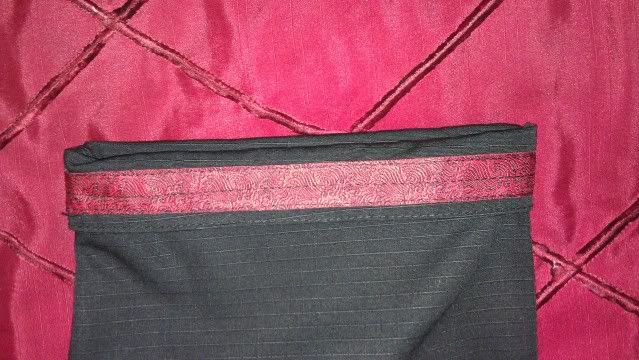 There is one small patch hit on the back in the butt area that reads "Worldwide Jiu Jitsu Club, competidor brand kimono.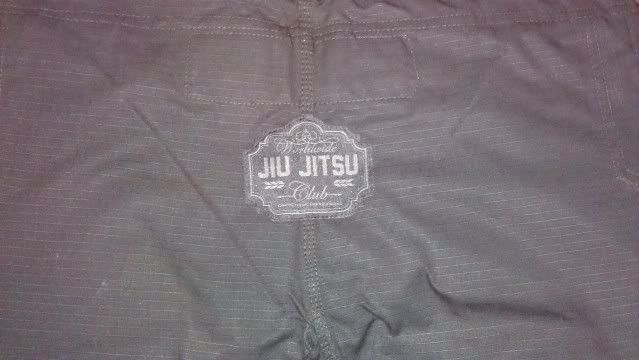 There is also one slightly larger than small patch on the front hip area that reads "Competidor Jiu Jitsu Groundwork Program" with their logo. Both patches are Grey/Black so they are slightly noticeable.
Pants overview – Very well constructed, comfortable and lightweight. I hope more companies catch on to their loop design although this is a unique feature for this company.
General overview of the gi I am extremely pleased with this gi, it fits me perfectly and can't wait to roll in it. I'll be rolling in it on monday and will use it a few times that day. I am not that happy about the lack of customer service but the gi makes up for that more than enough.