2/29/12
First off, I want to say I've heard nothing but good things about the bull terrier gi's. From the solid construction, to the fit, comfort level, and great craftsmanship all together with their gi's. So I was expecting great things with this gi right out of the gate. This is my first real gi review so I hope it's good.
I'm guessing Bull Terrier wanted to come out with a "normal" gi without all the things that make Bull Terrier exactly what it is. They succeeded with this gi, they took off all the patches, fancy linings, and all the bells and whistles but without compromising their quality. Everything is still the same craftsmanship you would expect with their company. And as with most Bull Terrier gi's, budovideos sold out quickly in the popular sizes of A0, A1, A2 and you can now only order them through their site http://www.btfightgear.com. And starting at 149.99 you can bet it's basically a steal for this gi.
Here are some measurements for your partaking:
My stats
fingertip to fingertip – 176.5cm
Height – 175.3 cm
Inseam of leg –
hip bone to ankle bone – 88.9 cm
Weight – 160 lbs or 72.5 kgs
The first stats are pre-wash as stated by Budovideos description, the second ones are post with a cold wash but hot dry for one full cycle (60 mins)
Trouser Measurements
Pant Length 97cm – 95.6 cm
Waist width(lay flat)54.5cm – 51.1 cm
Thigh width 32.5cm – 26.9 cm
Inseam 70cm – 64.8 cm
Top Measurements
Top Length 75.5cm – 73.4cm
Width 58.5cm – 57.2 cm
Sleeve edge to edge 164cm – 162.2 cm
Cuff width 17cm – 16.5cm
Collar thickness – 9mm or .9cm
If you use Meerkatsu's gi chart here are the measurements
A – 162.2
B – 73.4
C – 57.2
D – 16.5
E – 95.6
F – 51.1
G – 24.1
H -34.3
Brief description of the style of gi – White with grey contrast stitching. They reinforce all the major points very well with triple stitching, including the cuffs of the arm but the pant cuffs are only double stitched.
Pants – The pants are a very light and breathable canvas cotton, but they come with a very bad drawstring that when wet gets hard to untie. I immediately changed mine out with a rope drawstring. It only has one belt loop and ultimately are just like most other pants construction wise with the exception of the better reinforcements in the crotch area and side vents.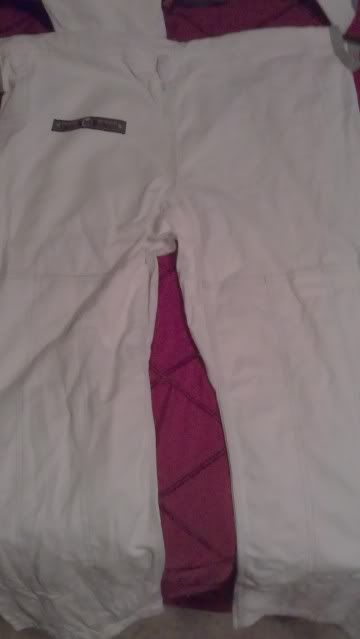 Crotch Area
Pant Logo
Side Vent of the Pants
The only spotty shot of sub par stitching is in the crotch area, i've never owned a gi that looked like this in that area, i've owned quite a few gi's in the last 3 years as well, but it's on the inside so it's not like anyone is gonna notice it anyway. I felt the need to show it just in case.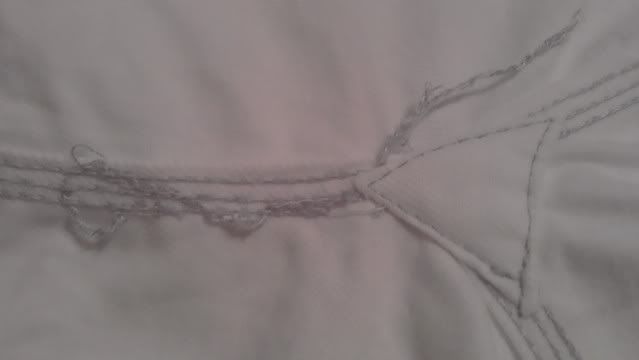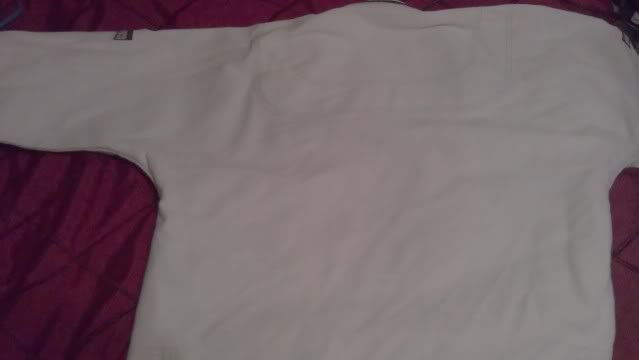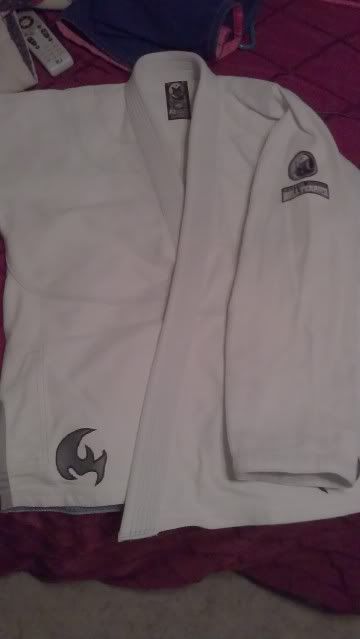 There isn't a whole lot to say design wise about the jacket really. Very plain and not what you would expect from Bull Terrier. Some people like this, other people want what Bull Terrier is expected…BLINGY.
The collar is very thin and flimsy, very easily manipulated and very easy to grab.
Bottom to top: Silverline, Atama Single Weave, Shoyoroll Compadre, and a custom Gi I had made in Pakistan
As for the inside of the jacket they have a blue taping with a honeycomb lining over it, double stitched on the lining but it comes up a tad more and is triple stitched total.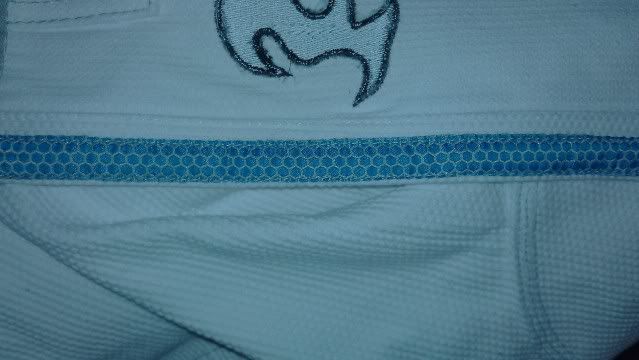 The only real flair on the outside of the gi besides the grey contrast stitching is an emblem embroidered on both sides of the bottom of the jacket and they use grey material on the vent of the jacket and pants openings.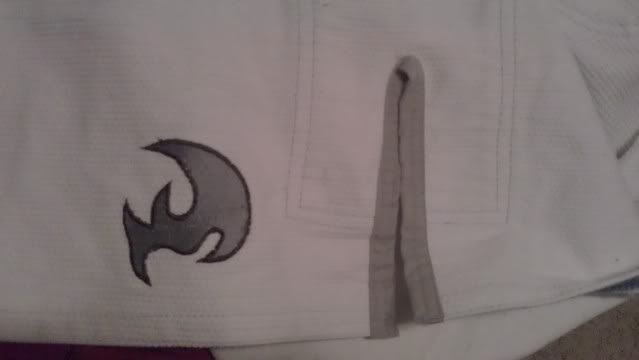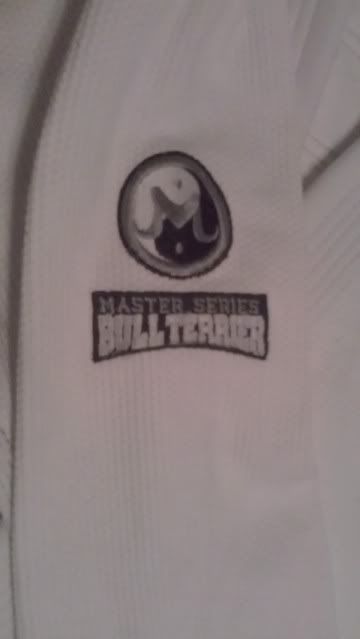 Logo on the Sleeves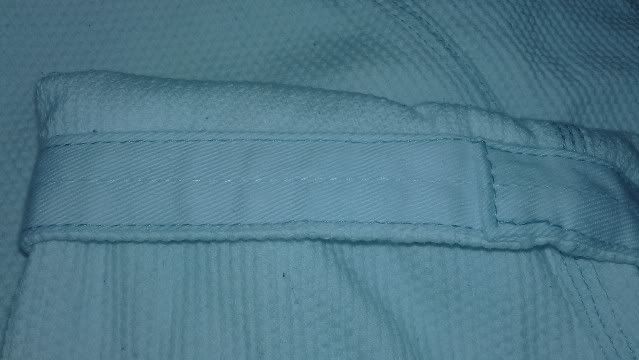 Sleeve Cuffs, triple stitched
Armpit Reinforcement
The fit and comfort of the Gi:
The Gi is a very tight fitting gi but not so tight you can't move or breathe. It's cut in a way that it rides high in the armpits and crotch area but still is flexible enough you're not adjusting the gi every time you move. It's a nice material, soft on the inside but rough on the outside.
Overall summary of the gi itself:
The gi itself is of great construction, great price for a Bull Terrier gi and does what it's supposed to do. The only bad thing about this gi is that like a few light gi's the more you roll and sweat, the more it stretches out and becomes very easy to manipulate and is almost impossible for you to break your opponents grips.
I hope this review is decent at best and you can come to a conclusion of whether or not you want to purchase this gi.